Wedding Photo Booths to Remember your Special Day

The marriage ceremony is a milestone for every engaged couple. The joys of matrimony are shared with friends and family on this special day.
However, tight schedules may hinder couples from finding the time to interact with all the guests.
Having provided years of wedding photography services, Cheese Effects is certain that our photo booths are an endless source of fun for everyone at the function.
Our wedding services welcome your guests with first-rate photography and video booths in Singapore, that features high clarity and vibrant photos, that can be taken with our wedding-themed props.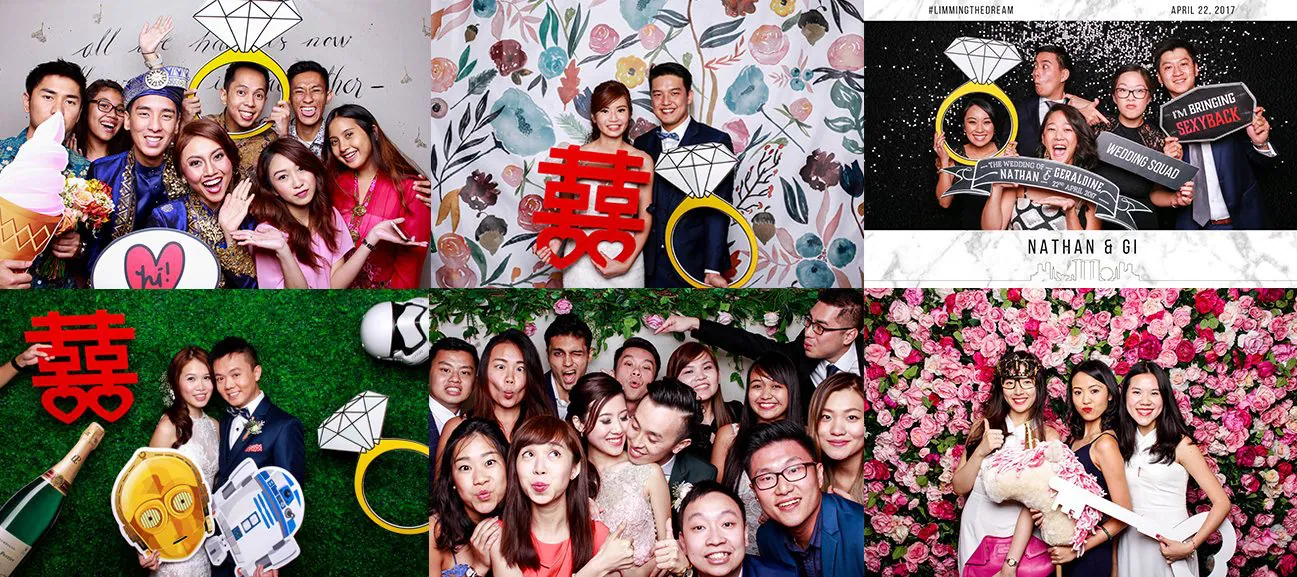 The marriage ceremony is a milestone that every engaged couple will visit. Celebrating the uniting in marriage, are shared among with friends and families on a single day. Tight schedules are expected and sometimes couples may find it difficult to interact with all the guests. Having many years of providing wedding photography services, Cheese Effects booth services are a sure enjoyment of everyone at the function. Our wedding services welcome your guests with our first-rate photography and video installation. Featuring high clarity & vibrant photos with many of our popular wedding-themed props.
Same Wedding Photo Booth but Different Just for you
At Cheese Effects, we understand that your wedding should be special. Personalize your booth with our unique and complementary customized props like these happy couples!
A great night when family members from Ming Fa fishball & the automobile industry were celebrating the union together.
Surprise guests with a cup of Hong Kong's black and white milk and curry fish balls.
Go retro with our customized props with old-school half-boiled eggs, bearing the names of the newly wedded couple.

Unlike other wedding photo booth vendors in Singapore that reuse their props for every wedding event, Cheese Effects has a robust inventory of 'wedding only' props. Besides our extensive prop collection, a few of our wedding package highlights are our range of over 40 backdrops and photo frame designs without the Cheese Effects logo.
In addition to the above, we provide customized props of your choice to add a personal touch to the photo booth. Since every love story is unique, we believe that personalized props are a great way of sharing it with guests. Get your creative juices flowing and humour friends and family with props that are personalized with quirky things like family nicknames!
Why Rent a Wedding Photo Booth?
Photo booths are a sensation, the talk of any occasion. Why wouldn't it be? No one can resist acting silly and striking wacky poses during such a joyous celebration. Be it young or old, wedding photo booths are a source of entertainment and the printout makes for a perfect keepsake.
Quality digital copies shot with soft studio lighting are one of our specialties, creating memorable and everlasting photos. Experienced booth assistants, together with our highly acclaimed wedding-themed props, will create the best picture for your guests.
Table Shoot
Weddings are energetic and bustling with activity. Although photo booths may provide for unique souvenirs, some guests may be too shy to take these photos on their own.
Couples may also be unable to grab photos with all the incoming guests due to time restraints. Table Shoot photography is the perfect solution for all these concerns.
Boomerang GIF Photo Booth (With Music)
Boomerangs found their way into wedding photo booths in Singapore when Instagram unveiled this popular (now beloved) feature. Different from its standard counterparts, due to the nature of its rapid GIF playback, guests will need to perform a gesture – shake, dance, jump, etc. It is unexpectedly fun and entertaining for all generations – kids love it and seniors get hyped up from performing their disco moves. If you are looking for the perfect crowd warmer for everyone, we have you covered!
A fun-filled wedding for all? GIF photo booth is the latest trend you cannot miss! This setup has caught the attention of many bridal magazines and wedding shows with its attractive animated feature and unique background music unique to Cheese Effects only. A high-quality GIF video is created by looping 3 to 4 photos together with music playing in the background. These GIF videos are automatically generated within 5 seconds after the photo-taking session, allowing for instant sharing via email.

Choose Cheese Effects as Your Wedding Photobooth Provider in Singapore
Looking to hire any of these services for your wedding? Contact us today for your photo booth needs in Singapore.