Remote Virtual Photobooth
Bring guests and remote attendees together anywhere & anytime!
Our Remote Virtual Photo Booth takes Selfies, GIFs & Boomerang, converts them with the event's artwork, and provides a social sharing platform for the user. Since the photo booth takes place on an online platform. Members of remote teams and virtual event attendees can share a communal photo experience with their friends and colleagues without having to be together in person. Create an amazing way to engage guests in marketing messages, conduct surveys, and collect user data.
Tell us more about your upcoming event.
Click here to try it out our Virtual Photo Booth!
Any Smart Devices
No more long photo booth queue and retake as much as they want! Attend to every invited guests on their device with a photo booth. Worry less with a genuine contactless service.
Virtual backdrops
Our advanced AI technology let you automatically insert a backdrop image into photos. No greenscreen required.
Live Slideshow
A cloud based slideshow can be displayed on TV, ballroom's screens or wherever you need to advertise!
All-in-one Cloud Gallery
Branded GIFs and Images are uploaded in real time to an online gallery for everyone to view. Images can be shared instantly via email or social media.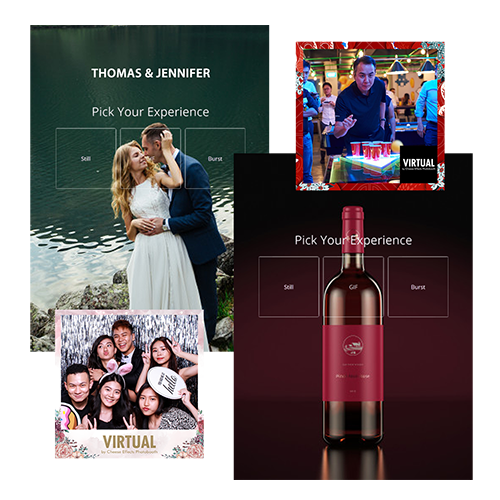 Customized Theme
Custom it your way. Let it look like wedding theme! Let it look like company anniversary! We can replace title wordings, background image, input logo and even personalised photo template for you!
Hardcopy Photos
Prefer physical hardcopies? We can print out and delivery the photos to your doorsteps.
Customized Weblink
No App. No Download. Use Any Devices. We use a web link to access the virtual photo booth and you can customize the web link title as of your branding.
Free QR Code
We will create one unique QR for you. So you can print and stick it anywhere for your guests to scan and access. Works for Zoom call too!
Virtual Mosaic Wall
Benefit from a virtual mosaic wall that encourages users to actively use virtual photo taking. You can view the completion of the mosaic wall in real-time. Download and print out the completed mosaic.
Survey Analyse & Download
Download all user emails, photos and collect survey data in excel format easily. Keep track of photo booth usage and study virtual event statistics.
Branded Theme
Custom virtual photo booth interface that looks like your very own.
User Friendly
Touch feature with minimal explanation easy for anyone to use.
Privacy Compliant
Comply to privacy laws in data handling, with user consent disclaimer.
Customer Support
Let us help you to get the most and to resolve any problems.
Access It Everywhere
No App. Runs on any smart devices. Anywhere in the world.
Boomerang GIFs, Stickers & Filters
Create flashy content such as boomerang GIFs with music. Apply stickers & filters effects.
Website Embedded
Insert the photo booth on your website. Encourages increased click through and engagement.
White Label
Use your own virtual photo booth custom domain link.
Emails & Photos Collection
Download your event images & emails with a single click.
Here's a Virtual Photobooth
You can place the virtual photo booth platform on your homepage just like below. Simply copy and paste the given HTML code onto your web page. Guests can play the virtual photo booth after browsing your content. Anywhere on your homepage. No redirect. Since you are here why not give it a try. Take a Virtual Snap!