Proposal Marry Me Letter Light
A good proposal story/ video can be part of your wedding day highlight. I am sure that every guest attending will be interested to know what is the secret ingredient to the rewarding, YES I DO. Cheese Effects is here to help you to achieve the most affordable and suitable styling for your ideal venue. Here we have two different types of Letter Lights depending on your criteria.

AC Letter Lights are slightly larger and it has our unique starry light bulb. However, it requires an AC power socket, and flat surface for deployment, and a sheltered environment with no rainwater on the Letter Lights.

DC Letter Lights can be set up at any location without a power source (e.g. botanical garden, beach, piers). With the compact system of 150cm (L) you are able to install it in a location that has space constraints (e.g. hotel room, car roof, mt Faber peak). Despite the shorter length, the two-row arrangement of 90cm (H) will create a bigger impression.
2 Row MARRY ME Letter Light (LED Battery)
149 cm (L) x 90 cm (H) 84 Led Bulb
Cool White / Warm White/ Retro Orange or (Any Color)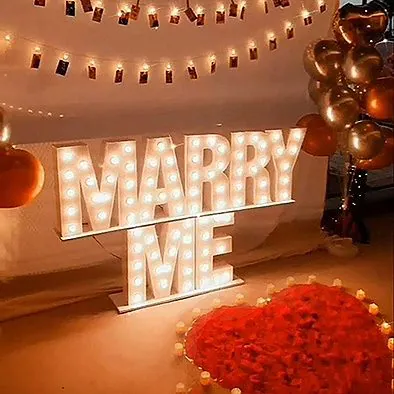 Individual MARRY ME Letter Light (AC Powered)
275 cm (L) x 60 cm (H) 92 Led Bulb
Warm White Only