Photo Mosaic Wall
Photo Mosaic Walls add another level of interactivity to the Social Media Wall concept. Available in digital display and print formats, an event mosaic wall allows guests to participate by using their photos to create a larger picture mosaic in real-time. The photos are automatically fetched from social media channels (Instagram) with the use of specific hashtags, on-site photo booths, an on-site photographer's camera, and more.

The Photo Mosaic Wall automatically prints photos as stickers. Guests can engage in the interactive experience by placing the stickers on the mosaic wall matching the corresponding number. The results – a mural with your branding for you to display created by everyone attending the event. Close up all of the individual photos are displayed, but further back the actual photo mosaic is revealed creating an impact tribute to display.

Impressive pathway to launching a new product, company logo, or announcing any milestone such as wedding photo!
Photo Mosaic Board/ Wall Dimension
Drawn to scale of human to photo mosaic board/wall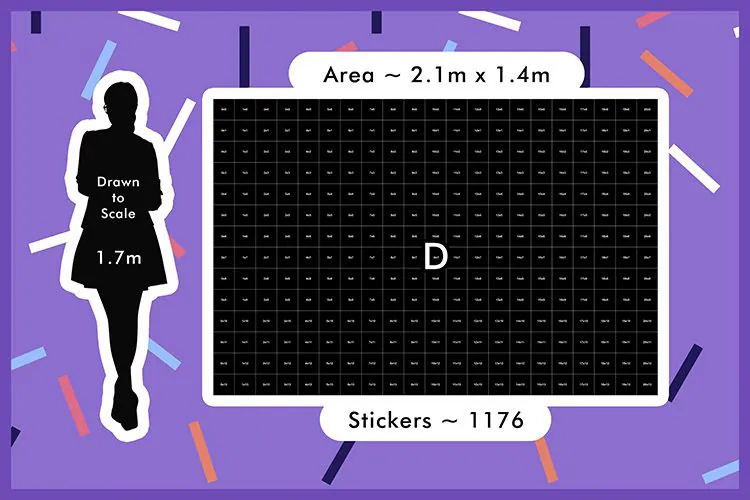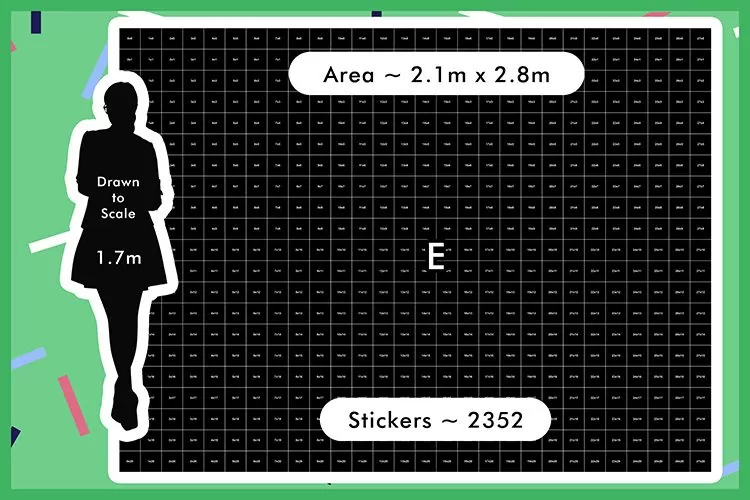 We will advise which is most suitable for your event according to your requirement. There are 3 factors that will be considered as sources of photos for the generating mosaic wall (e.g. your photographer's photo, Instagram's hashtag database, or on-site photobooth's photos), any required fixed time for the completion of the photo mosaic wall, and expected size of the finished photo mosaic product.

Our photo mosaic system can be calibrated to fulfill your event requirement. Completion of photo mosaic wall is delay-able (e.g. output the last photo on the 7th day of your event). Automatic recycling of photos from existing inventory to ensure timely completion due to shortage.

Photo Mosaic actual walls are customizable accordingly, we can increase more rows/ columns to meet your venue's wall. The individual sticker can be of different sizes (small sticker 2″ or big sticker 4″) and shapes (e.g. rectangle or squared) to your preference. All stickers come with removable adhesive to make corrections if required.

The standard background of our mosaic wall is black with white guidelines and number indicators. For an advanced mosaic concept, you can replace the standard black background with an image (e.g. old company logo and mosaic unveiled it into a new company logo)
How to Order? (book the activity)
An on-site activity where we continuously provide individual 2″ x 2″ stickers for your guests to stick and complete the mosaic board at your venue.

Items Provided: 1 x empty mosaic board (or wall), 1 x many individual 2″ x 2″ stickers, 1 x event staff
Step 1: Choose a suitable size from the illustration above. A, B, & C is a portable size. While D & E require a physical wall built for this activity.
Step 2: Source of photos to generate the mosaic stickers. Upload to us wirelessly. Or we can provide a photo booth solution and use the photos taken.
Step 3: Determine the expected time for completion. We will set the auto-completion time in our system. The activity ends when all required stickers are printed and attached to the empty mosaic board.
How to Order? (buy the completed mosaic board)
If you do not need the hands-on activity. We provide sales of the completed mosaic board.

Item Provided: 1 x completed mosaic board
Step 1: Choose a suitable size from the illustration above that you would like to purchase.
Step 2: Send us all the digital photos and we will complete and print the mosaic board backend in our workshop.
Step 3: The printed mosaic board will be delivered to your address. Installation fees applied
Our Past Mosaic Wall Projects
Clients who trusted us with their projects and campaigns
Choose Cheese Effects as your Photo Mosaic Wall provider in Singapore
Unveil the surprise with us, get in touch with the good folks at Cheese Effects for your personalized Photo Mosaic Wall!
We are also awesome in providing photo booth Singapore service. So, hit us up!

Inquiry on your event with our latest promotion. You may also call us at 8401 1760 during office hours.