Affordable Instant Photo Booth Rental in Singapore
Cheese Effects started in 2015, specializing in photo booth rentals and on-site printing in Singapore. We pride ourselves on maintaining a high standard, guaranteeing up-to-date studio hardware and a memorable experience for all who hire our services.
The photo booth industry in Singapore has evolved. With businesses booming, these kiosks have been a common sight across all types of events. We understand that guests and VIPs look for new functions and services when using our booths, especially instant photo booths.
Aside from instant printing, we also offer handcrafted backdrops and personalized props to provide guests with a unique experience. All our props are tailor-made and are created from scratch by our experienced designers and craftsmen. When incorporated into our professional photography sessions, studio-quality pieces of art are produced by our talented crew.

Our services in Singapore cover a wide range of functions including instant print, GIF booth, roving photography, on-site printing, wedding photo booth and hash-tag Instagram print.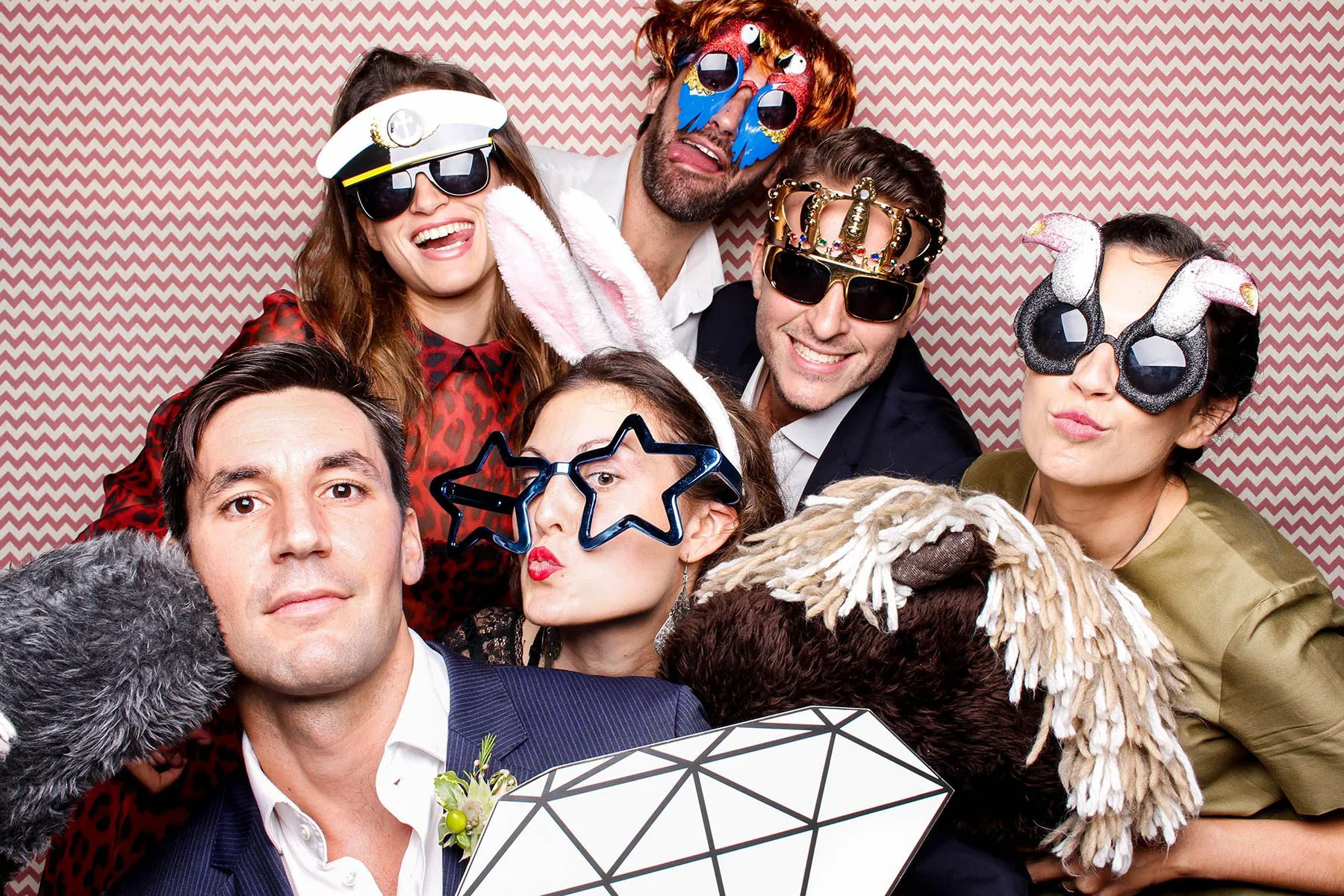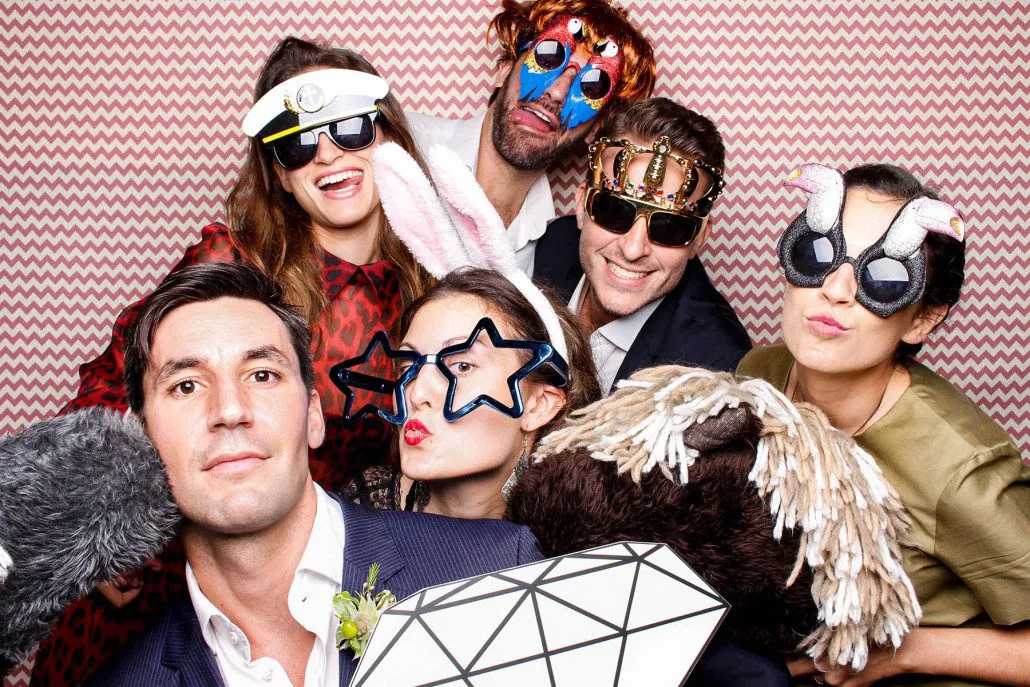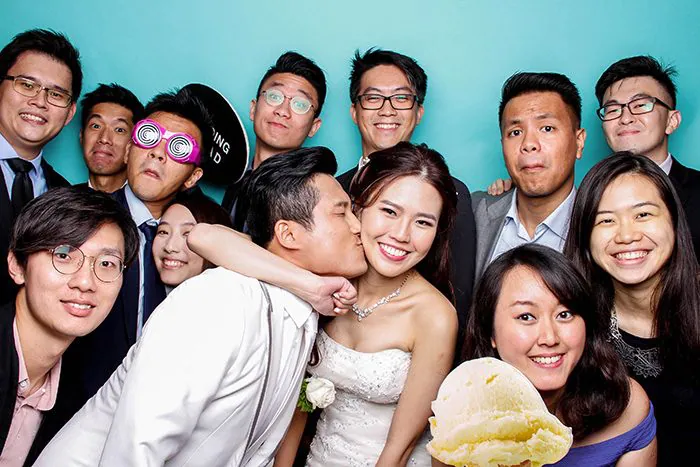 Trusted by Many
At Cheese Effects, we tailor to your special occasion. We are committed to providing an excellent photo booth experience for your guests. We know that every event is unique and special, and take pride in being the go-to choice for all your instant photo booth needs.

Our state-of-the-art instant photo booth machines are equipped with cutting-edge technology to ensure high-quality prints and an interactive user experience. We spare no effort in delivering the best.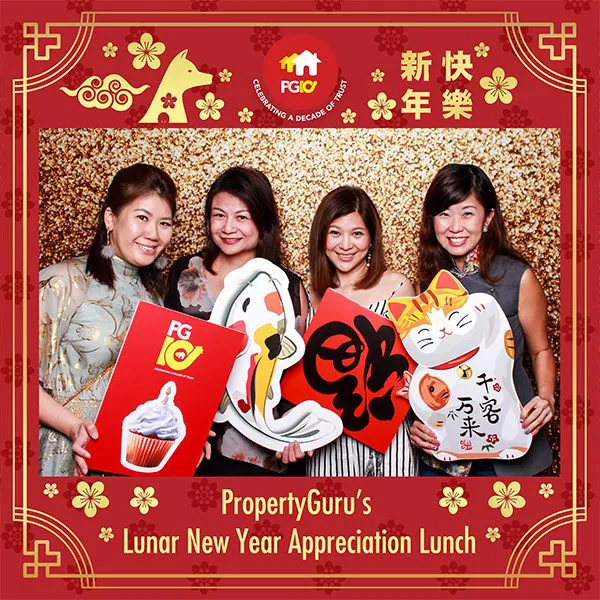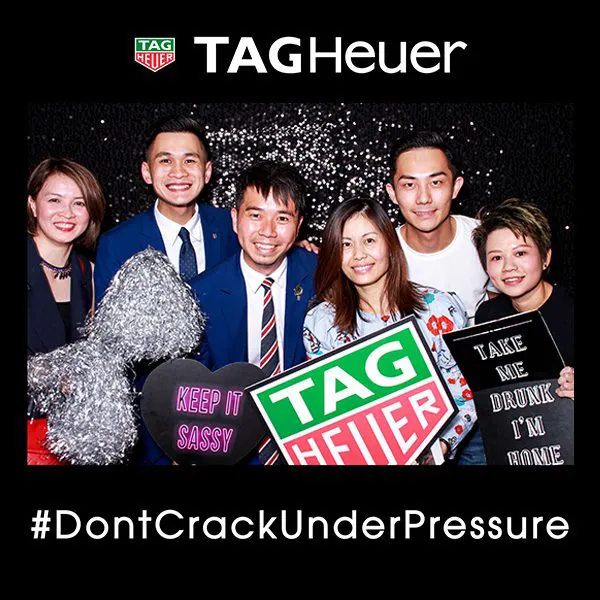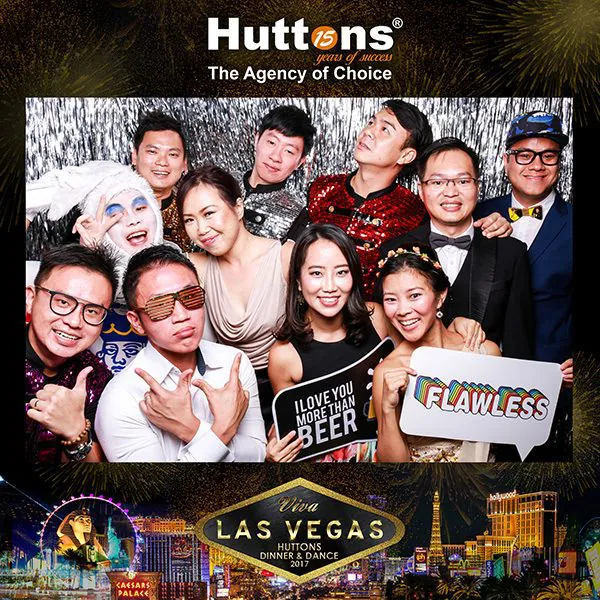 Instant Photo Booth for Corporate Events &
Weddings in Singapore
Corporate Events
Hosting a Gatsby night, masquerade party or spooky Halloween-themed event? Cheese Effects' customization service has it covered.
Our in-house designers provide complimentary branding, as well as customized frames, backdrops, and prop designs that will best fit your needs. Since almost everything is commissioned by us, we offer quality products at factory rate.
Moreover, Cheese Effects promises speed and reliability. Our photo booths are capable of handling an average of 1000 – 2000 guests with a mere 60-second waiting time for picture collection.
When it comes to corporate functions such as product showcases, Cheese Effects is fully dedicated to our clients in Singapore. We will solely market your brand without our own logo included like other instant photo booth companies.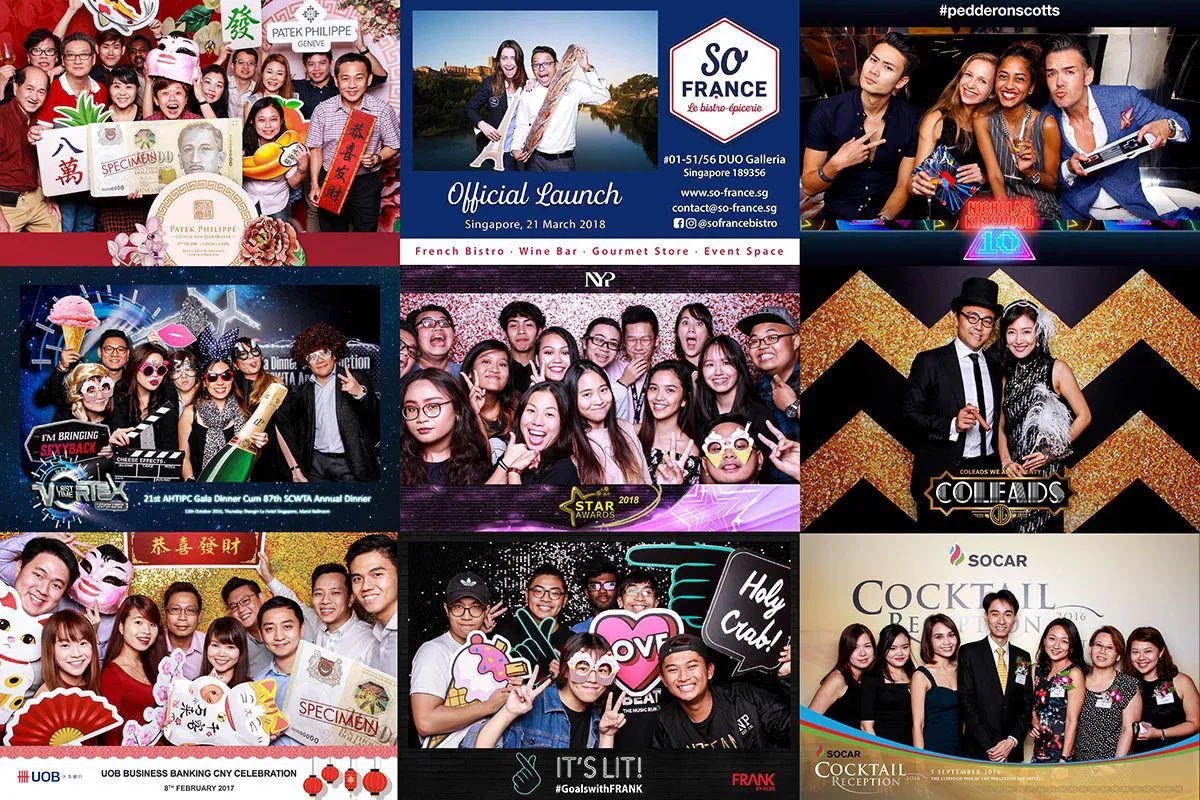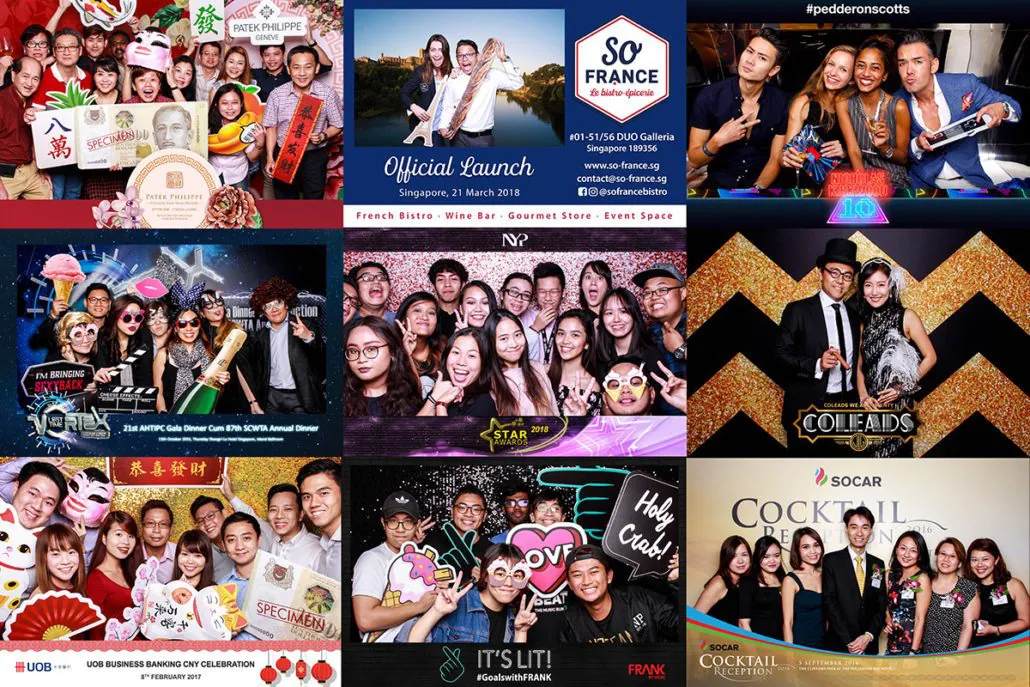 Weddings
Your wedding day is a celebration of love, joy, and the beginning of a beautiful journey together. At Cheese Effects, we understand the importance of preserving these precious moments. That's why we offer the best instant photo booth service for weddings in Singapore.
An instant photo booth can be the perfect addition to create lasting memories. With a simple click, your guests can immortalize their joy, laughter, and love, creating beautiful mementos that will be cherished for years to come.
Be enticed by our attractive photos and exclusive wedding photo booth props. Our Cheese Effects crew will provide over 60 props to your wedding event in Singapore – from handmade props to in-house custom-designed chalkboard banners, we have them all!
Speak with us to learn more about our instant photo booth rental services, including GIF wedding photo booth in Singapore.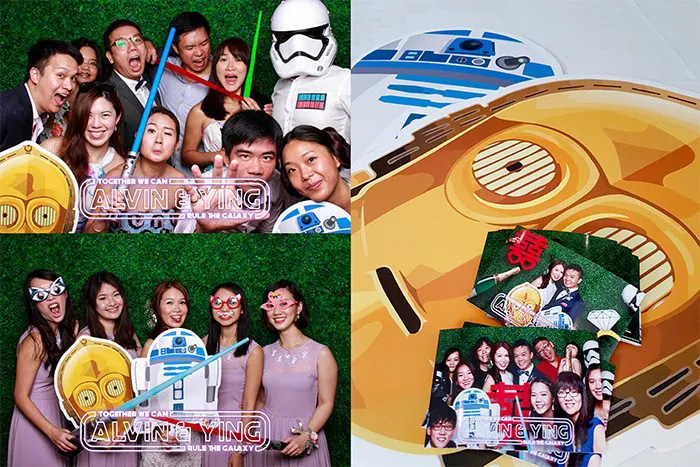 Props
At Cheese Effects, we believe in adding a touch of creativity and fun to your instant photo booth experience. Our extensive collection of props is designed to elevate your photos and create memorable moments. Whether you're planning a wedding, corporate event, or a festive celebration, get some fun props and give your photo booth setup a twist!
Themed Props
Fancy and colorful custom-made props are available when you book the best photo booth services by Cheese Effects Singapore.
Our team can prepare a set of themed props for your event. Some of our available themed props include 80s retro, glitz and glamor, beach summer party, back to school, Christmas, Chinese New Year, Halloween, Star Wars, Gatsby, and many more.
We offer an array of themed props designed to match various occasions and settings. From elegant and classic to quirky and playful, our themed props cater to a wide range of preferences.
Elevate your wedding instant photo booth in Singapore with our romantic, vintage, or fairytale-themed props to complement your wedding theme and capture the essence of your special day.
Or impress your colleagues and clients with themed props that align with your corporate event's objectives. Whether it's a product launch, conference, or team-building event, our themed props can add a touch of lightheartedness as needed, perfect for festive company celebrations for Chinese New Year, Christmas, or Halloween. Match the holiday spirit and make your event more memorable.
As one of the main highlights of any event, we believe that it is our responsibility to ensure that guests have a good time at our photo booths. Speak to us now to learn more about how our props rental can tag along with your photography service here.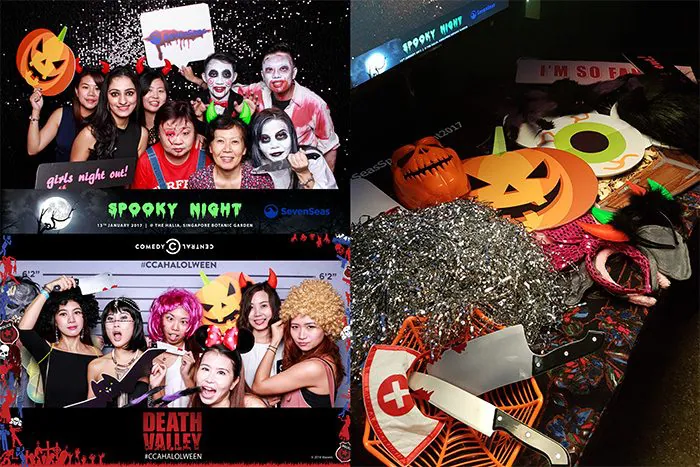 Festive Props
Have a Christmas Party or Lunar New Year celebration? Our team is sure to prepare a set of theme-based photo booth props for your event.
If you're celebrating a holiday or special occasion, our festive props are just what you need. Our collection includes props tailored to specific festivities, ensuring your photos reflect the joy and spirit of the season.
Our festive props are versatile and can be customized to match the theme of your celebration. Create a photo booth experience that stands out and brings joy to your guests.
From Santa hats and reindeer antlers to Easter bunny ears, our props add a festive flair to your photos.
At Cheese Effects, we understand the importance of personalization and attention to detail. Our themed and festive props are curated to enhance your instant photo booth experience, ensuring that each photo tells a unique story.
Ready to elevate your event with our themed and festive props? Contact us today to discuss how we can add a touch of creativity and fun to your instant photo booth session.

Why Choose Us?
Our elegant and multifunctional instant photo booth kiosks are designed and custom-built in Singapore. Some of the features of our services include:
Multifunctional
Singapore's first photo booth with compact, dual-touch screen monitors, designed to maximize the photo-taking experience for guests.
Measuring 60cm x 40cm, the booth can be placed in areas with limited space without exposing unsightly wiring or machinery.
Brand-able booths for roadshows & product launches are available upon request. We can also customize them to generate data reports from surveys and emails to aid in the contest winner selection process.
Package
Our package comprises all the needs to cover your event. Get a quote via our contact form.
Package Details
Unlimited printouts (e.g 5 people in a photo, 5 prints)
Choose 1 printout size out of the available 6 options (see below)
Fully customized printout design (without cheeseeffects.sg branding)
Design revision up to 3 times free (subsequent revision is at $30)
Free Flow White Envelopes for all printouts
Standard props provision
DSLR and Professional Studio Lighting
21" Monitor Live View Preview
1 x Complimentary Backdrop Choice
Include all transportation, set-up & dismantle
Softcopy download link to access all photos will be sent to your email within 3 working days
High Speed Printer (4 – 8s/ copy)
At least 1 staff on site
Printout Sizes
4R Size (4″ x 6″ ~ 10.16cm x 15.24cm)
Photo Strip Size (2″ x 6″ ~ 5.08cm x 15.24cm)
Credit Card Size (2.6″ x 4″ ~ 6.60cm x 15.24cm)
Polaroid Size (2.6″ x 4″ ~ 6.60cm x 15.24cm)
Squared Size (4″ x 4″ ~ 10.16cm x 10.16cm)
Pocket – Double Sided Size (2″ x 3″ ~ 5.08cm x 7.62cm)

*Square Size & Pocket (special order)
Click here to view actual printed photo samples of the printout.
Additional Features
Check out the many add-ons below that you can enhance your photo booth experience. Feel free to mail us to find out more.
| Add On | Detail |
| --- | --- |
| Customized foamboard props | Printed on 5mm thick hard foamboard. Price starts at $15 per piece for sizes up to A3. For bigger sizes and other materials, please get in touch with us separately. |
| Customized backdrop | Size of 220cm by 220cm. Please note that the lead time for manufacturing a customised backdrop is about 5 to 7 working days. |
| Live photo feed | Photos taken by our instant photo booth can be streamed in real time for projection. learn more |
| Emailing station | With this add-on, your guests can email their photos instantly to themselves. |
| WhatsApp photo sharing | With this add-on, your guests can WhatsApp their photos instantly to themselves. learn more |
| Booth skin branding | Our instant photo booth skin will be branded |
| Full branding enclosure | Our instant photo booth will be enclosed in a fully branded enclosure. |
| QR code photo sharing | With this add-on, your guests can scan the QR code (on our system) and receive their photo instantly on their mobile phone. |
| Password access photo sharing | With this add-on, all photos are password protected. Only your guests have private access to their own photos through our printing & sharing kiosk. learn more |
| Dual print sizes | With this add-on, your guests can choose between two printout sizes e.g. 4R or photo strips. |
| Sticker printouts | Photos captured at our instant photo booth will be printed on sticker photo paper. This is only valid for selected printout sizes. |
| Magnetic printouts | Photos captured at our instant photo booth will have a magnetic backing. This is only valid for selected printout sizes. learn more |
| 6R printouts | Photos captured at our instant photo booth will be printed on 6R photo paper. Printout size is 15.2cm by 20.3cm. |
| Unmanned interface (automated booth) | With this add-on, your guests can operate the photo booth machine by themselves via on screen guiding instruction. |
| Separate printing/ sharing kiosk | With this add-on, all photos can be printed in another location from a separated kiosk. |
| An extra print (each photo) | With this add-on, all photos taken will have an extra copy printed. |
Say Cheese With Cheese Effects Instant Photo Booth In Singapore
Looking for a photo booth with all the themed props for your event? Cheese Effects are ready to provide these!
At Cheese Effects, we tailor our services to your needs. Whether a wedding or a product launch, we are committed to providing an excellent experience for your guests.
If you're seeking that extra spark of fun for your event, get in touch with the good folks at Cheese Effects! Simply fill in the inquiries form below or here.
For further enquiries on your event or our latest promotions, contact us at (65) 8401 1760 during office hours.